A Taste of Liverpool – The Athenaeum
1 month ago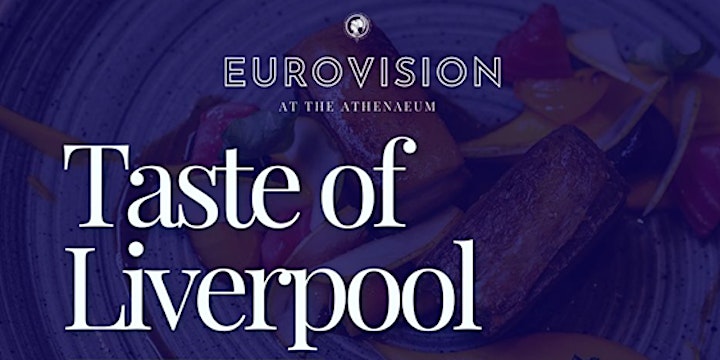 12 May 2023
The Athenaeum
Nestled within the heart of our vibrant city, we invite you to indulge in an exquisite culinary journey in celebration of Eurovision 2023!
Proud locals and tourists alike can enjoy a showstopper meal based on Liverpool's culinary scene in the exclusive restaurant on the top floor of The Athenaeum. This is a chance to dine in style and experience Liverpool's diverse and rich food culture in a luxurious setting. Tickets cost £50 per person.
Join and be treated to 'the Athenaeum experience' as one of the oldest private members clubs in the country opens its doors to showcase its offering at a exclusive dinner.
Included in Your Ticket
Exclusive access to The Athenaeum
Welcome drink
Three-course meal
Use of the Newsroom bar following the sitting
As you enter our enchanting venue, prepare to be captivated by hundreds of years of history under one roof – mixing timeless charm with modern sophistication.
Guests will be gathering in the grand Newsroom from 7:00pm for a reception drink ahead of a three-course dinner the Club's Dining Room.
This exclusive event is destined to become a standout highlight of the Eurovision festivities, complete with a VIP touch.
No matter if you are continuing your Eurovision celebrations or enjoying a one-off treat, we guarantee a memorable night ahead.
Book your place now and join us for a truly enchanting evening that will undoubtedly leave you yearning for more.
What to Expect
1. Exclusive Access
Enjoy the privilege of stepping inside a prestigious private members club, rarely open to the public. You and a limited number of esteemed guests will have the opportunity to be part of the Athenaeum magic for this once-in-a-lifetime event.
2. Historic Venue
Immerse yourself in the history of the institution, boasting an illustrious membership of notable Liverpool personalities. Elevate your Eurovision experience within The Athenaeum's luxurious surroundings, rich with cultural heritage.
3. A Memorable Culinary Experience
Delight in a mouth-watering banquet, expertly crafted to please your palate and show off The Athenaeum's kitchen. Enjoy a welcome drink in the Newsroom before dinner, and pay bar will be available throughout including selection of fine wines to perfectly complement the meal and add a touch of elegance to your Eurovision celebration.
4. Prime Location
The Athenaeum is conveniently situated just a ten-minute walk from the Eurovision Village, right in the heart of Liverpool City Centre, making it the perfect spot to absorb the atmosphere, without the stress.
What to wear
Although there is no strict dress code for this event, the venue encourages guests to dress to impress for this exclusive event and fully embrace the Athenaeum spirit, with a dose of Eurovision sparkle – if that's your thing!