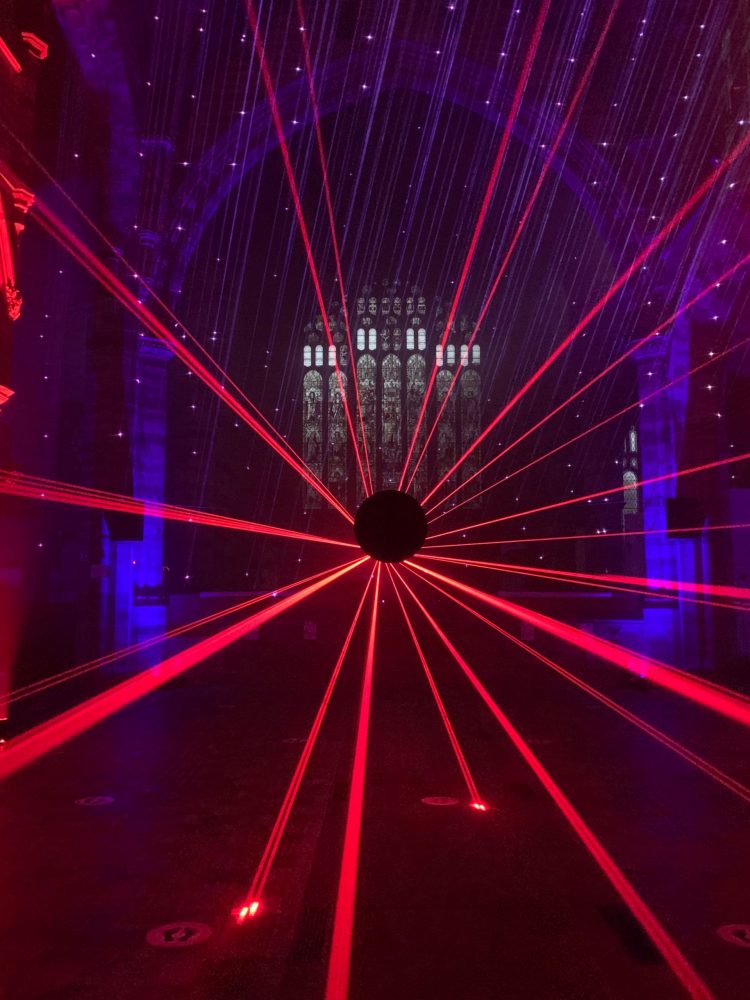 27 Nov 2021
Old Christ Church
Liverpool has seen two celestial bodies. The Moon and the Earth have amazed the city, but now it's time for a third celestial body. The strangest and most mysterious bodies of the cosmos from which not even light can escape and which can stop time; a black hole.
Black Hole – End of Time is a black hole on Earth. Floating in space and visible only because of the lack of light, this awe- inspiring and immersive performance will fill Old Christ Church with lasers and other special effects, with a black hole, floating at the heart of the church.
The ominous and spine tingling soundtrack underpins the 25 minute looping performance where audiences can orbit the black hole and wonder at the ceiling starscape until the finale where we take our place in the shadow of the black hole for the final laser display where 20 lasers create arial effects as if bursting out of the black hole.
The brainchild of Liverpool musician and award winning lighting designer, Paul Alty, Black Hole – End of Time is a multimedia performance forging together his lighting and musical careers into an immersive and captivating experience.
The piece is a 30 minute looping performance and is taken from Paul's Behind The Clock body of musical works; three concept soundtrack albums which explore a story with themes of life and death, time and space with a good dose of sci-fi surrealism thrown in. This performance also coincides with a new album launch, Divide By Zero, a musical offshoot to the Behind The Clock series.
The performance is being staged to promote Paul's music and lighting work in the city with the event being free but asking for donations to the Friends of Old Christ Church to keep it open and functional as a community venue.
Using 20 lasers and a host of other architectural and lighting effects, the performance takes the audience on a journey – to orbit a black hole, a walk on clouds whilst looking up to the crystal star- filled ceiling to standing in the shadow of a black hole, watching it burst with laser light whilst beams dance around in every direction; and eventually watching it fade.
The event is free entry but donations are requested for #WeMakeEvents, the technical entertainment charity, and The Church Conservation Trust.
Founded by the Professional Lighting & Sound Association (PLASA) #WeMakeEvents is a charity set up to support the technical events industry during Covid, when the live events industry was brought to a halt and to raise awareness of the UK's 1,000,000 highly skilled industry professionals; all the technicians, designers, operators – the behind the scenes people who make live events happen. #WeMakeEvents raises awareness and vital funds for hardworking industry professionals and their families in times of financial hardship and ill health.
Old Christ Church is a volunteer-run community venue (saved from demolition in 1999), providing a space for everything from exercise classes and functions to beer festivals and model railway exhibitions. During Covid, it, like many other venues has been unable to open and host events and yet still has bills to pay and fund repairs to the building.
Due to laser safety measures, numbers will be limited for those wanting to stand in the shadow for the final two sections.
Covid-19 safety measures and community precautions will be monitored closely and event logistics may be changed last minute to accommodate any restrictions to make it Covid secure.
Press viewings on Friday 26th November are to be made by appointment and we welcome all to come to film and photograph promotional content in the church.