Blue with special guests B*Witched & Megan McKenna
1 year ago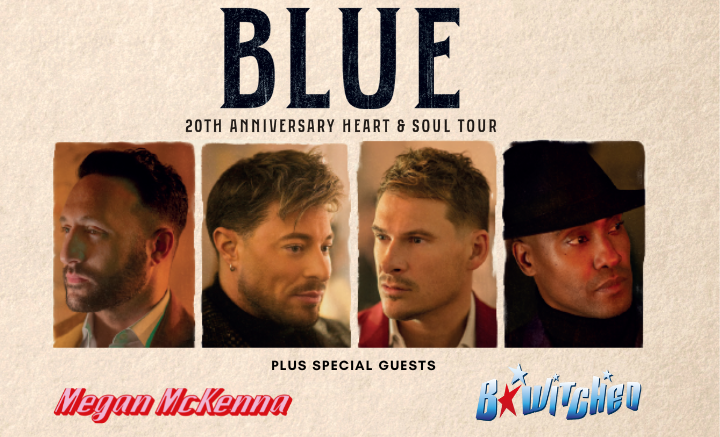 11 Dec 2022
To celebrate their 20th anniversary, Blue will be bringing their Heart & Soul Tour to Liverpool this December.
Blue, one of the UK's most successful boy bands, are back with a new album "Heart & Soul" released on 28 October 2022. See them on this December performing a selection of the new tracks alongside celebrating the 20th anniversary of their 4x platinum selling album 'All Rise'.
Joining Blue on tour will be the fantastic singer-songwriter Megan McKenna, Rising star Cassa Jackson and Irish girl group B*Witched.
Doors for the event will open at 6pm. The show will begin at 6:50pm.
The British four-piece, including all 4 original members – Antony Costa, Duncan James, Lee Ryan and Simon Webbe – have been back together in the studio working on their new album, Heart & Soul which can be ordered now by visiting https://blue.lnk.to/heartandsoulWE and is available on CD, Vinyl, as well as on all digital platforms.
Blue are one of the most successful British bands and have sold over 16 million albums worldwide including 3.6 million albums and 1.4 million singles in the UK. Their first 3 albums all topped the Official Album Chart and the group have worked with a variety of legends including Stevie Wonder, Elton John and Lil' Kim.
B*Witched
B*Witched said, "We are so excited to announce that we will be joining Blue on their Heart & Soul arena tour in December 2022. We have been wanting to tour together for some time now after nicknaming ourselves Bluwitched several years ago and are thrilled it is finally happening.
We've known the guys for so long and have always loved their energy and their approach, so we know this is going to be a mega show. We will be bringing our hits of course but expect some surprises too including a brand new single! We want to put on an amazing show and can't wait to see all the fans and some new faces too. What better way to end the year!"
Blue added, "We are really excited to be teaming up with the girls from B*Witched on our UK tour. We had great fun touring Australia and New Zealand with the girls a few years ago and we are looking forward to round two!".
Megan McKenna
First and foremost a singer-songwriter, Megan's journey to music has been slightly more unconventional than most. After starting her career as an English television personality, Megan left this all behind to pursue her deeper passion – music. Inspired by her deep-rooted love for all things country, the first step in Megan's musical journey saw her travelling to Nashville to experience first-hand the music she'd always loved, documenting her travels for the public in a three-part ITV series "There's Something About Megan". This was the first time the public properly heard Megan's unique, powerful voice. Her performances drew rave reviews and led to her releasing her debut country album "Story of Me" in 2018 with 2 singles hitting number one in the iTunes all genre charts.
It was Megan's fiery determination and willingness to stop at nothing to reach her dreams which saw her agree to join the group of contestants competing in The X Factor: Celebrity in 2019. Megan was one of only two contestants in X Factor history to perform original songs, and week-by-week she took the nation by storm. Her unique vocals, always perfectly pitched yet full of emotion and her alluring stage presence saw her sail through the competition with ease. She was crowned X Factor winner in the show finale. Then the pandemic hit and all live shows were cancelled for 18 months. Megan continued to write more music and took the opportunity to take part in Celebrity Masterchef 2021. Megan's decision to feature on the show was part inspired by the fact she wanted to educate people about coeliac disease which she suffers from, plus she has a wheat allergy too. Therefore, every dish she prepared on the show was gluten and wheat free. Megan sailed through to the final and this year released her first cookbook 'Can You Make That Gluten Free?'
Megan is continuing to release more original music, as well as supporting Tom Jones again on his Summer tour dates. Megan rounded off last year with a performance on the main stage at the Isle of Wight festival, her own headline shows, as well as a full UK & Ireland arena tour, supporting Michael Ball and Alfie Boe, whom she joined to sing with on stage each night too. Megan is thrilled to be back supporting them again.