Cirque Du Soul : Liverpool // Ewan McVicar
1 year ago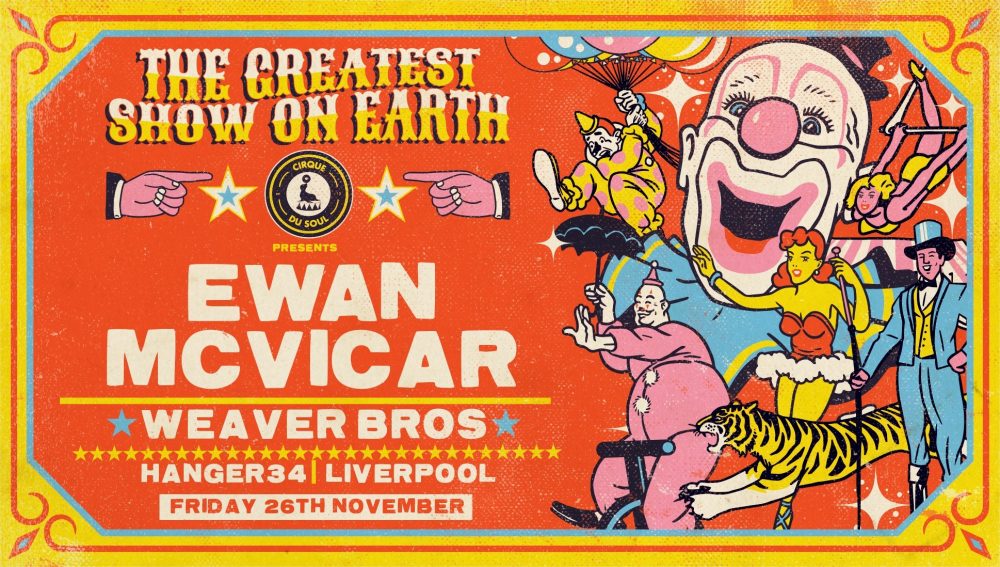 26 Nov 2021 - 27 Nov 2021
Hangar 34
The Greatest Show On Earth is back in Liverpool for one night only! After 17 months of being shut down we have been tucked away creating and improving our parties to bring you something very special this Autumn!
So step right up and witness our brand new, never before seen production, performers and immersive decor – all brought to you by the UK's leading club night – Cirque Du Soul!
Headlining proceedings is man of the moment Ewan McVicar who's dance anthem "Tell me something good" has been our track of the summer! Support comes from legendary party starters – Weaver Bros. and our very own Cirque Du Soul DJs.
🎵 𝐋𝐈𝐍𝐄 – 𝐔𝐏 🎵
Ewan McVicar
Weaver Bros.
Luke Wolfman
Cirque Du Soul DJs
🎪 𝐂𝐈𝐑𝐐𝐔𝐄 𝐃𝐔 𝐒𝐎𝐔𝐋 🎪
Roll up roll up.. the circus is back in town!
A travelling collective energy of colour, magic and dance. Only the most vibrant and open-minded party goers need apply. The 21st Century's Moulin Rouge – burlesque meets bass. It's time for you to know about Cirque Du Soul.
Once a month we will invade the most quirky of hideouts in a selected city, dusting off the cobwebs, chalking up the cocktail menu and sweeping the stage for a sell-out showdown of bohemian madness.
The air will be soaked with the freshest collection of House, Funk, Soul, Bass, Disco, Garage and Hip-Hop this side of Chicago.
Each city bags its own headliner – and the junkies can hop skip and jump to the next performance with our travelling troupe of misfits.. but space is limited.
We've picked the cities, now you pick the circus.