Douze Points!
2 months ago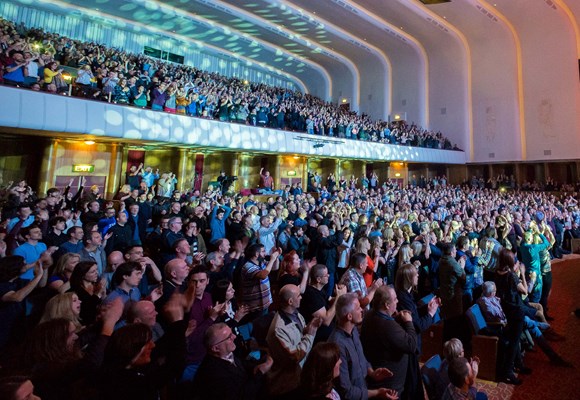 12 May 2023
Philharmonic Hall
Royal Liverpool Philharmonic Orchestra plays your favourite Eurovision hits
Boom Bang a Bang Lulu
Ding A Dong Teach In
Save Your Kisses For Me Brotherhood of Man
Making Your Mind Up Bucks Fizz
Waterloo ABBA
Spaceman Sam Ryder
Love Shine a Light Katrina and the Waves
Diva Dana International
Hard Rock Hallelujah Lordi
Richard Balcombe conductor
Owain Wyn Evans host
Vocalists from Capital Voices:
Annie Skates
Kate Graham
Steve Trowell
Andrew Playfoot
Hello, this is Liverpool calling… Eurovision is coming to our city and we can't wait to join the party with a celebration of the world's biggest, brightest and most bonkers musical event. There's nothing like a Eurovision extravaganza – every single year it brings flamboyant costumes and staging, voting dramas and everyone's favourite commentary, but most importantly, an absolute masterclass in cheesy hits and you-just-couldn't-make-it-up musical antics.
From folk to power ballads, heavy metal to Europop, Eurovision has it all, and the Royal Liverpool Philharmonic Orchestra are ready to embrace the musical madness, bringing you orchestral versions of iconic Eurovision songs. Hosted by the wonderful broadcaster Owain Wyn Evans (host of Radio 2's Early Breakfast show in 2023, who raised more than £3 million for BBC Children in Need with a 24-hour drumathon!) and joined by incredible vocalists, the Orchestra will take you on a trip around the continent, performing 'Waterloo', 'Boom Bang a Bang', 'Rise Like A Phoenix', 'Stefania' and many more – and we'll even throw in a glass of bubbly with every seat to kick off the night. Tickets for this one will go fast, so don't take too long 'Making Your Mind Up'!
All tickets include a glass of fizz delivered to your seatJoin us pre-concert for Booze Points!, and get the Eurovision party started in style as we delve into the delectable delights of Europe's vineyards.