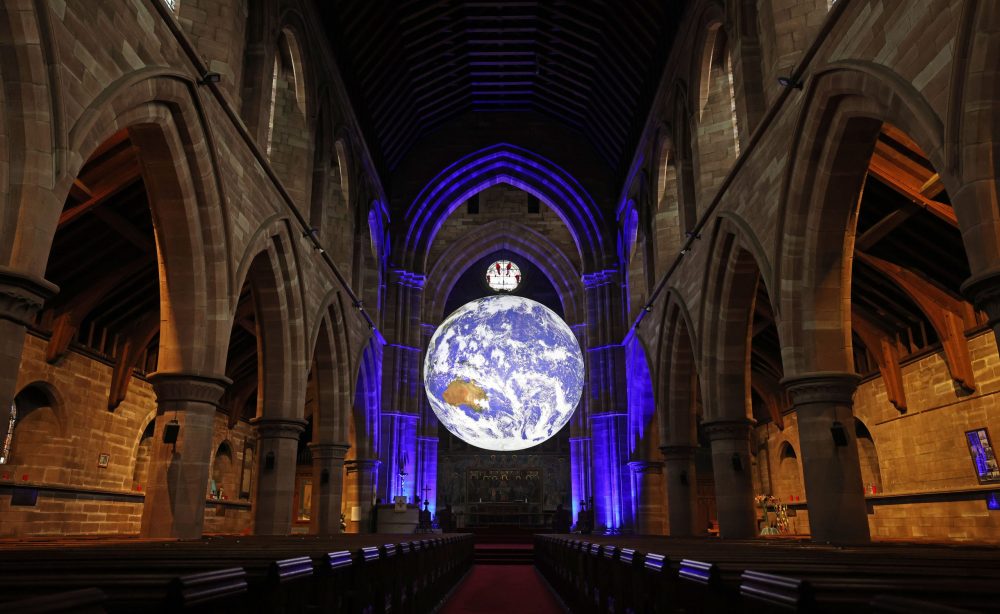 04 Feb 2022 - 17 Feb 2022
Kirkby
As part of Knowsley's celebrations for its year as the Liverpool City Region Borough of Culture, it has been announced that 'Gaia'- a large scale replica of the earth – by Luke Jerram is set to come to St Chad's Church, Kirkby in the new year.
But what can we all expect from this huge 6-metre-wide 3D 'earth' and why should we be so excited?
Gaia is a touring artwork by UK artist Luke Jerram that aims to demonstrate the fragility of the planet. Measuring 6 metres in diameter it is a replica of the 'earth' created from detailed NASA imagery of the earth's surface. The artwork provides a unique opportunity to view our planet, floating in three dimensions and revolving slowly.
Its creator Luke Jerram says: "I hope visitors to Gaia get to see the earth as if from space; an incredibly beautiful and precious place. An ecosystem we urgently need to look after – our only home."
In addition to being visually dramatic, Gaia is also accompanied by a surround sound composition by BAFTA award winning composer Dan Jones.
In Greek Mythology, Gaia is the personification of the earth – which seems a fitting name for this phenomenal artwork.
Gaia will arrive in St. Chad's Church in Kirkby on Friday 28 January and be there for three weeks. During that time, you can come along and see Gaia throughout the day and into the evening.
Mondays and Tuesdays 2pm to 8pm (last entry 7.15pm)
Wednesdays to Saturday 11am to 8pm (last entry 7.15pm)
Sundays 2pm to 5pm (last entry 4.15pm)

Please note: Church services will continue at 11am each Sunday.
There will be some special events taking place during the three weeks and there may be occasions when the Church is busier than usual. There will also be some time slots or dates where the public won't be able to view Gaia due to other events being held. More information about these events or times when the church may be closed will be provided in due course.
PLEASE CHECK THIS WEBSITE BEFORE YOUR VISIT