Hot Wheels Monster Trucks
3 months ago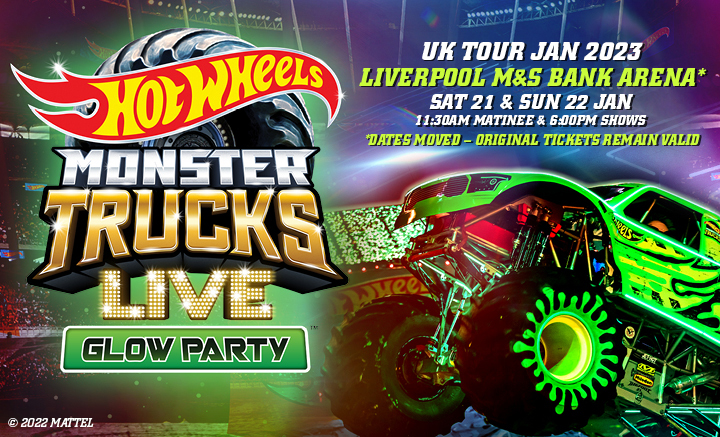 21 Jan 2023 - 22 Jan 2023
M&S Bank Arena
All-New Hot Wheels Monster Trucks Live™ Glow Party Is Heading to Liverpool on Saturday 21 & Sunday 22 January 2023!
World's Fastest Growing Monster Trucks Show Brings Fans a Thrilling Hot Wheels® Glow Party Experience for the Whole Family!
The newly launched Hot Wheels Monster Trucks Live Glow Party will light up Liverpool in 2023.
Fans of all ages will be dazzled as they watch the iconic Hot Wheels Monster Trucks light up the floor in this one-of-a-kind, high-energy Glow Party experience when the huge rip-roaring trucks roll into the M&S Bank Arena in January 2023.
Coming off a hugely successful Glow Party debut in North America, the popular family entertainment tour is kicking off its 2023 campaign with a sweeping Glow Party experience across Europe, with multiple shows in the UK, Belgium, Denmark, Poland and Spain.
The thrilling new experience brings audiences the only opportunity to watch their favorite Hot Wheels Monster Trucks – Mega Wrex™, Tiger Shark™, Boneshaker™, Bigfoot® and more, plus the all-new Gunkster™ – LIGHT UP the floor in outrageous monster trucks competitions and battles.
Event performances will also feature spectacular laser light shows exhilarating dance parties, and Hot Wheels toy giveaways. Plus, a special appearance from the car-eating, fire-breathing transforming robot MEGASAURUS, and the electrifying high-flyers of Hot Wheels Monster Trucks Live, Freestyle Motocross! Special children's pricing is available for all shows providing a BIG value for the whole family!
An exciting Crash Zone Pre-Show Party will be held before every performance. The Hot Wheels Crash Zone Pre-Show Party is an event that gives fans exclusive access to their favorite Hot Wheels Monster Trucks up close! This unique experience allows fans to enter the competition floor before the show and get their minds blown by the outrageous design and epic size of the Hot Wheels Monster Trucks along with autograph signings from their favorite drivers and performers.

Experience the heart of where all the epic crashes and thrilling stunts will take place. If you want to go big, you gotta go Hot Wheels at the Crash Zone Pre-Show Party!
Senior Vice President Touring, International Music, Live Nation, Tim McWilliams said: "We are thrilled to be embarking on our third UK tour of Hot Wheels Monster Trucks Live.
"As the world's largest live-entertainment company, we are part of many incredible shows, but Hot Wheels Monster Trucks Live provides a new dimension in family entertainment that never fails to impress. We can't wait for these shows so we can all join the Glow Party."
Ken Hudgens, CEO of Family Entertainment Live, added: "With the success of the Hot Wheels Monster Trucks Live Glow Party thus far, we're excited to continue the amazing experience into 2023, both in the United States and internationally."
Children under 2 can go free if sat on a lap.
Age restriction for Child ticket – U13's (12 or under)
Statement from Hot Wheels regarding Date Change
Hot Wheels Monster Trucks Live™ are delighted that Liverpool will host the Eurovision Song Contest. Due to the scale and complexity of Eurovision, the Glow Party will now head to the M&S Bank earlier on 21 and 22 January 2023.
All tickets for previous April 2023 date will be valid for new January 2023 date.