Jack and the Beanstalk
1 year ago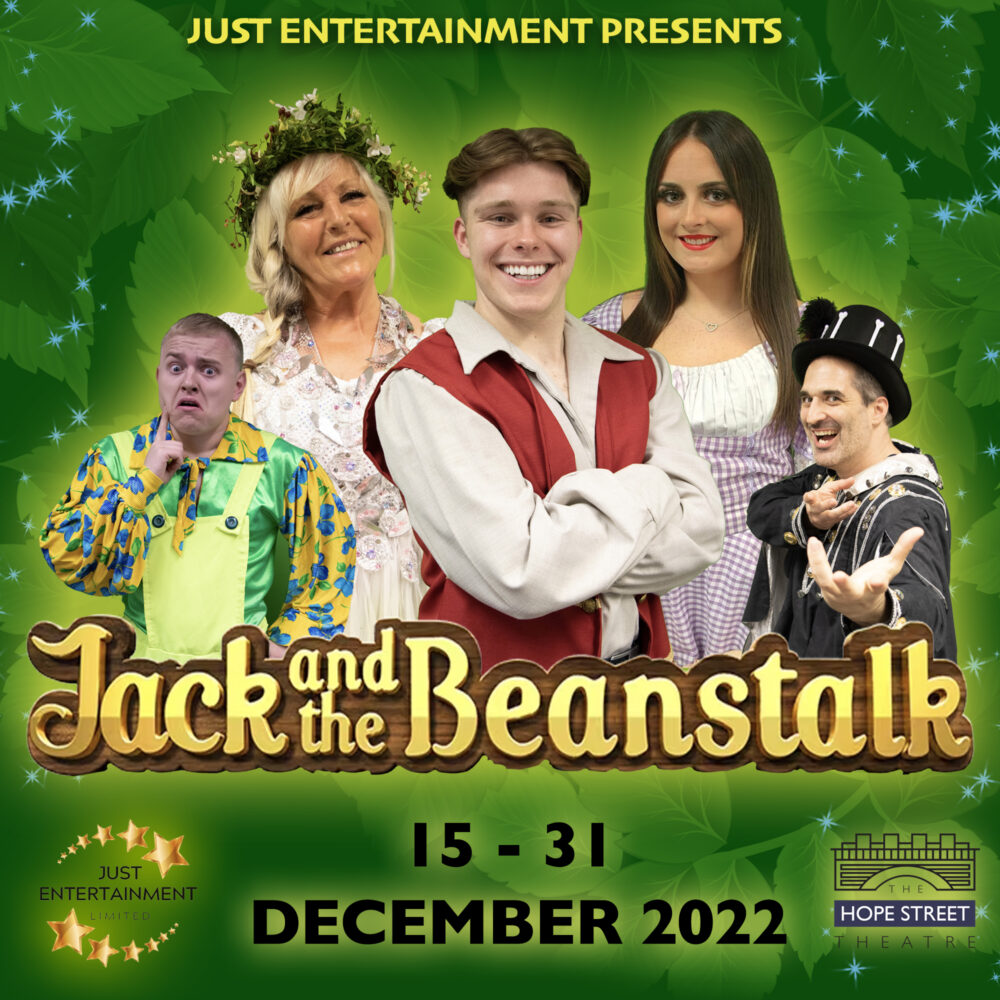 15 Dec 2022 - 31 Dec 2022
The Hope Street Theatre
In Liverpool the ONLY WAY IS UP for this GIANT of a pantomime at Christmas.
Get to Hope Street Theatre for the FE-FI-FO-FUNtastic panto Jack and the Beanstalk.
The Trot family are so poor they don't have a bean to their name, and the Giant Blunderbore is terrifying the village. Come and see if Jack can defeat the Giant, win the heart of the girl he loves and turn the Trot's fortunes around.
Just Entertainment's brand new production of Jack and the Beanstalk has all the ingredients for a perfect family panto; a dastardly villain, a hapless comic, a hilarious panto dame, as well as fabulous musical numbers, choreography and bags of slapstick fun!
Making a welcome return to the company will be Liverpool Live favourite LESLEY BUTLER who will weave her magical ways as Mother Nature, she will be joined by ALICE CARLILE as Jill. Alice is part of the hit dance troupe The Merseygirls – who were Britian's Got Talent Golden Buzzer finalists in 2017.
Recent LIPA graduate and liverpuddlian JOE OWENS will play the titular Jack Trott and PHIL PEREZ will be getting in everyone's face as the evil Fleshcreep. Magician and ventriloquist DEAN RAYMOND will be entertaining the crowd as the lovable Silly Simon. Lending his vocal talent to the Giant Blunderbore will be Liverpool Radio legend BILLY BUTLER.
The company will be joined by a host of young local talent from Hope Street based Performers Theatre School.
This year's production will have a distinctive local sound with many of the productions songs coming from Liverpool bands and artists.
Get MOO-ving NOW and BOOK YOUR TICKETS FOR CHRISTMAS 2022
Santa will be adding magical festival spirit to The Hope Street Theatre this Christmas after selected Performances of 'Jack and the Beanstalk' Pantomime. Each Child will receive a small gift (Selection Box) from Santa. Picture opportunities are welcome but MUST be taken on your own device at your discretion. Children must be suprvised by a responsible adult or guardian at all times.
BOOK a Place to see Santa NOW (LIMITED PLACES)
Available Dates: 17th, 18th, 20th, 21st, 22nd, 23rd