Martin Kemp – Back To The 80s – Liverpool
10 months ago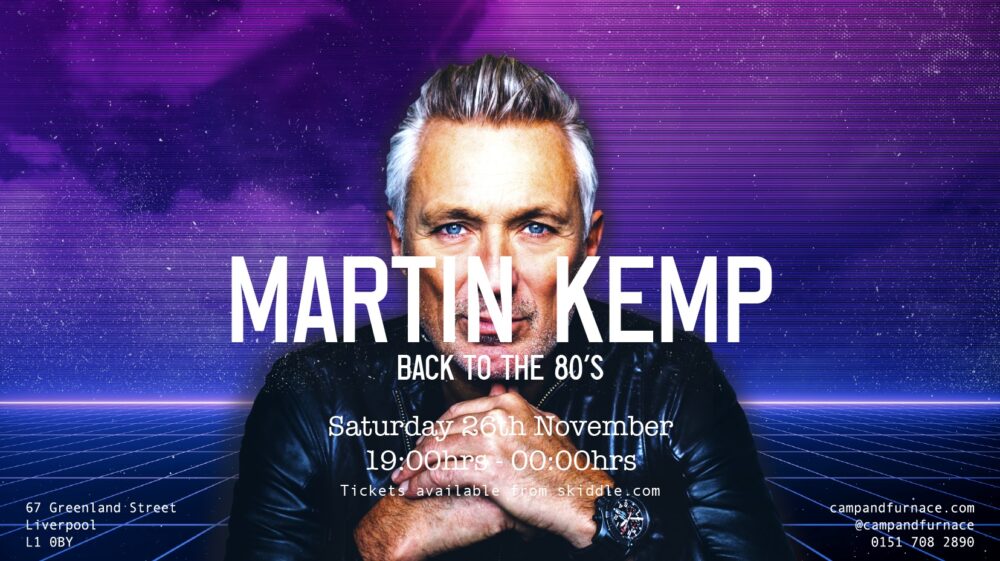 26 Nov 2022
Camp and Furnace
Martin Kemp is taking us back to the 80s with an electrifying DJ set & we're feeling all kinds of nostalgia!
HE'S BACK! We just couldn't help ourselves. We're throwing another SELL OUT Martin Kemp night! So, dust off your sweatbands, leg warmers & double denim if you dare for the ULTIMATE 80s PARTY! Nonstop nostalgia, throwback belters, retro visuals…the LOT!
Expect to hear the sounds of…
David Bowie, Blondie, Michael Jackson, Boy George, George Michael, Culture Club, Soft Cell, Madonna, Prince, Depeche Mode, Fleetwood Mac, The Clash, Beastie Boys, Pet Shop Boys, Rod Stewart, Wham, Abba, Spandu Ballet, Duran Duran, The Smiths, Tears For fears, Echo and The Bunnymen, Talking Heads, New Order, Joy Division, Frankie Goes To Hollywood, The Human League, Madness, Cindi Lauper, Dead or alive, Eurythmics, Simple Minds, Kylie Minogue, Depeche Mode, Peter Gabriel, The Police, Phil Collins, Bros, Jimmy Summerville, REM, Belinda Carlisle, Bangles + more.
NOTICE: STROBE & FLASHING LIGHTS WILL BE IN USE DURING THIS EVENT. PLEASE BEAR THIS IN MIND WHEN BOOKING TICKETS.