Mellowtone presents…
8 months ago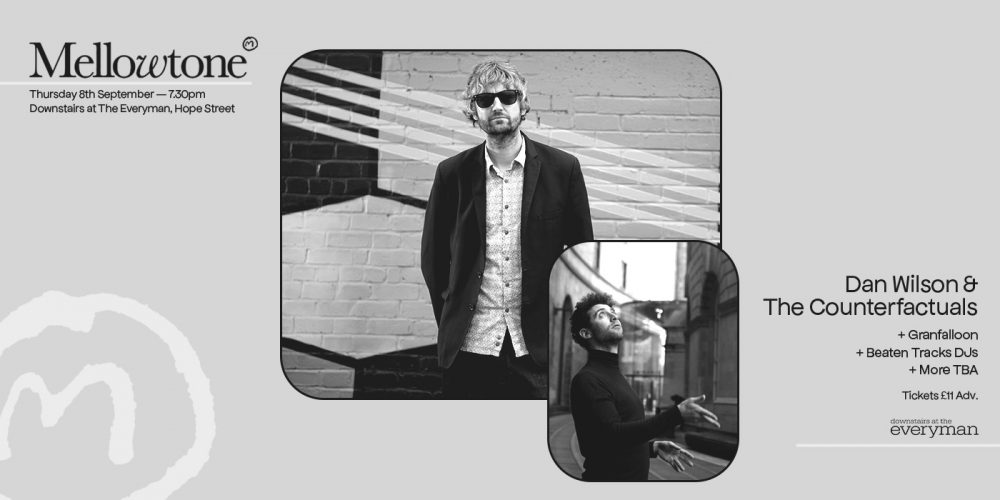 08 Sep 2022
Everyman Theatre
Liverpool's Mellowtone  Records present an intimate night of music downstairs at the Everyman featuring Dan Wilson & The Counterfactuals, Granfalloon + Beaten Tracks DJs…
Granfalloon
Currently working on his fourth album; a double, potentially triple album… Granfalloon continues the work of his third album, Positive Songs, to focus more on traditional songwriting, and not quite traditional storytelling, to chisel out small, beautiful moments. It showcases this non-traditional storytelling with subject matter like… the meta-narrative approach to the dangers to you and the relationships around you that writing can have, expressing love through mathematical formulae, and 8 year old girls catching bees in Tupperware boxes, all with a heavy dose of Richard Lomax's absurdism.
Dan Wilson & The Counterfactuals
Dan Wilson is a singer/songwriter and musician with The Cubical/Los Separatistas and a solo artist with Dan Wilson & The Counterfactuals. He is known for his unique lyrical and vocal style and is also a writer of poetry and short stories. This is music that creaked of old wooden bars and dark corners. Music aged in barrels and smelling of a days work well done. Blues soaked Folk and Rock with Jazz undertones to whet the appetite.