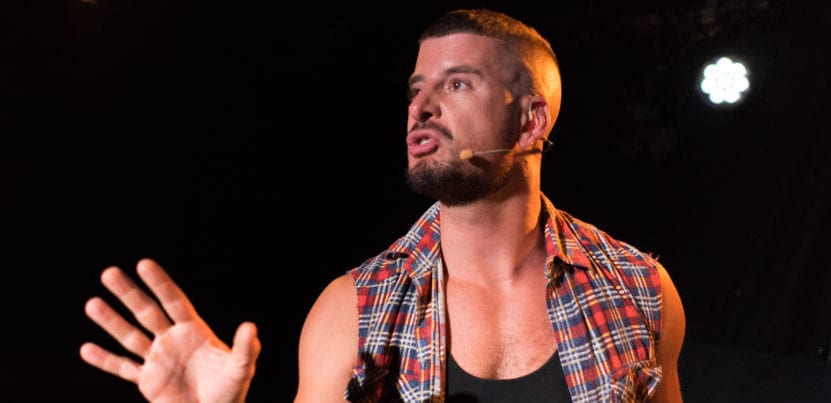 05 Feb 2020 - 04 Dec 2022
Presented by Emmerson and Ward
Created and performed by Alexis Gregory
Directed by Rikki Beadle-Blair
Direct from the West-End and a successful summer 2019 tour, the critically acclaimed Riot Act is a hard-hitting and hilarious and moving exploration of the history of the LGBT rights movement.
This powerful solo verbatim piece is created from playwright and performer Alexis Gregory's interviews with one of the only remaining Stonewall survivors, a 1970's London radical-drag artist and a prominent 1990's AIDS activist.
Join us this February to mark LGBT History Month, with this journey through six decades of queer history… It's going to be a riot!
'Frank, warm and uninhibited' – Evening Standard
'A career defining performance… This stand out piece of theatre will become part of LGBT cultural heritage'– Attitude
'Verbatim theatre at its best' – The Stage ★★★★
'Compelling… utterly captivating' – Gay Times ★★★★
'The most moving piece of new queer writing currently being performed in London' – The Spy In the Stalls ★★★★★
'A first-rate show…will make you laugh and cry' – LondonTheatre1 ★★★★★
'Carefully considered and beautifully composed' – London Theatre Reviews ★★★★★
'An eye opening punch to the gut…achieves ambitious levels of storytelling' – Broadway World ★★★★
'Funny, moving, honest and truthful .. Theatre at its simplest and at its best' – British Theatre Guide ★★★★
'Alexis Gregory has woven various themes together beautifully in his compelling performance in RIOT ACT… A masterclass… Absolutely riveting' – Queer Guru ★★★★
'These are stories that need to be heard, delivered with power that demands we listen' – The Reviews Hub ★★★★
'A powerful and important piece of verbatim theatre… Alexis Gregory gives a masterful performance' – BritishTheatre.com ★★★★
'Riot Act' is published by Oberon Books.