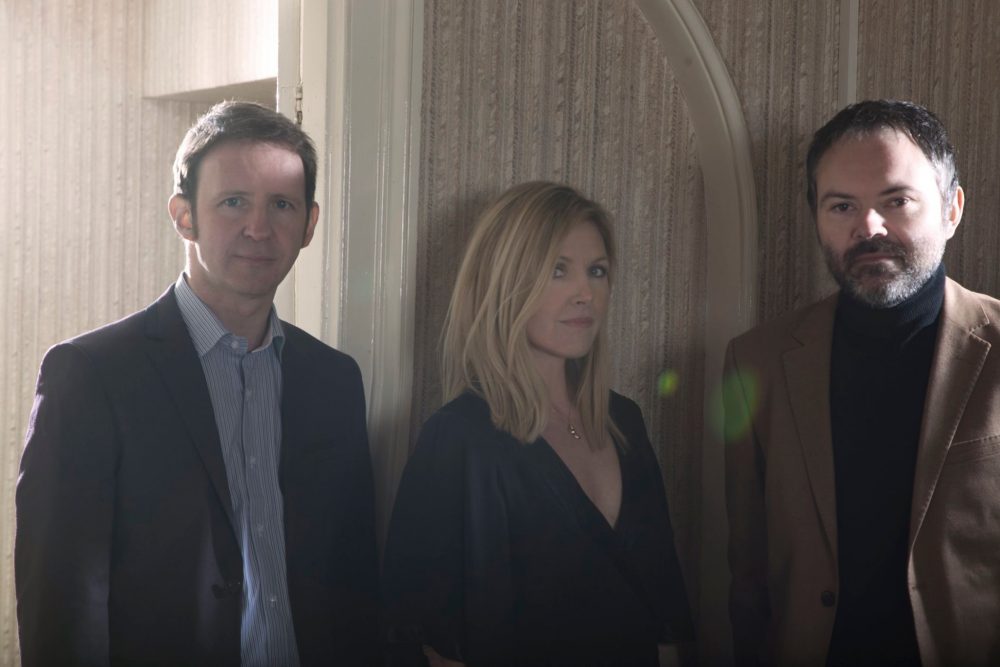 26 Nov 2021
Grand Central Hall Liverpool
Saint Etienne w/ special guest, Jane Weaver
Can it be that it was all so simple then? Or has time rewritten every line?
Marvin Hamlisch was not yet 30 when he wrote those words for the mouth of Barbra Streisand. Even then, Hamlisch was acutely aware that as a narrator of our own stories, the human memory is at best unreliable and at worst mendacious. That same awareness resonates through every bar, beat and breath of I've Been Trying To Tell You, the tenth studio album by Saint Etienne, The album, which is released in the first week of September and accompanied by a specially-made film directed by acclaimed fashion photographer Alasdair McLellan and sleeve notes from socialist writer Owen Hatherley, is made largely from samples and sounds drawn from the turn of the new century, a period that was topped and tailed by Labour's election victory and the terrorist attack on the Twin Towers.
"It's about memory," Bob explains, "and how it can fog and play tricks on you. Specifically, it's about the late Nineties, and current nostalgia for the Nineties."
Formed in Croydon in 1990 by music journalist Bob Stanley with childhood friend Pete Wiggs, and soon joined by singer Sarah Cracknell, Saint Etienne arose within the context of the indie-dance movement of that era but created a unique sound which – albeit accidentally – paved the way for what would later become known as Britpop.
Their earliest albums – 1991 debut Foxbase Alpha and its 1993 successor So Tough – tapped into the collective consciousness by using an accretion of disparate elements – Long Wave football commentary, a snatch of Four Tops vocals or a sample of Dusty Springfield strings, some dialogue from Billy Liar, a melody from a long-forgotten perfume ad – to create a richly evocative memory-world which was specifically British, even when the component parts themselves were not.
The resulting emotion, of course, is bittersweet. Saint Etienne's music has always captured the feeling that the Portuguese call saudade, the Welsh call hiraeth and the Germans call sehnsucht: a combination of homesickness and longing, a melancholy yearning for a time, a place, a person or a mood that can never be revisited.
It's what the Scottish comedian Brian Limond was driving at with the heartbreaking Limmy's Show sketch in which he visits a travel agent and shows them a blurred colour photograph of himself and his friends on a teenage holiday in the Ayrshire resort of Millport. "Can you tell me how I get there?", Limmy asks the confused agent, who initially tries to sell him a ticket to Millport. "No, not the place," Limmy replies. "The feeling." Saint Etienne's 2002 single "Action" expresses a similar desire: "Cos I've been searching for all the people I used to turn to, and all the people who knew the answer… Let's get the feeling again…"
Another constant in Saint Etienne's music has been their understanding of the power of dreams. There's a strand of pop which stretches from The Beach Boys' SMiLE through Saint Etienne to The Avalanches' Since I Left You and beyond which defies the reductive term 'dreampop', and instead evokes the genuine sensation of dreaming: blissful, yes, but also unsettling and disorienting. Saint Etienne's early career masterpiece "Avenue" conjured that realm for seven minutes, and I've Been Trying To Tell You inhabits it entirely. The album ties together these two Saint Etienne threads – memory and dreams – and tells us directly something which has always been implicit in Bob, Pete and Sarah's work: that memory is a dream.