Southport Air Show
4 months ago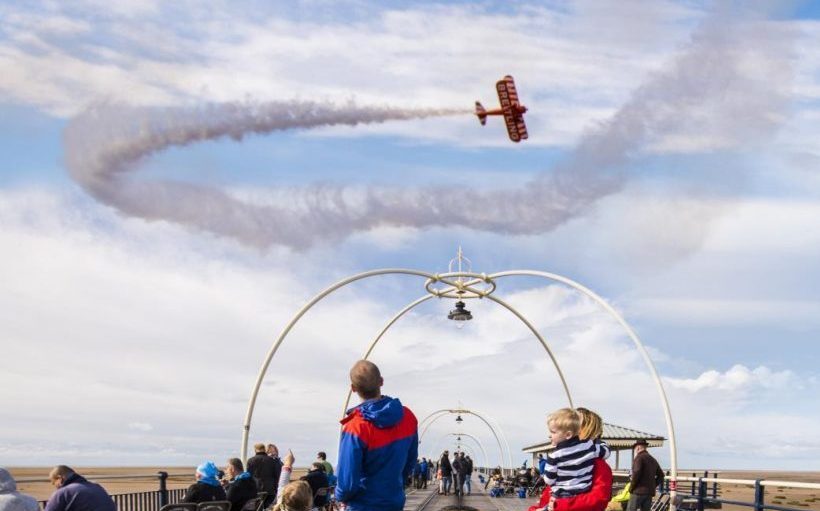 09 Sep 2023 - 10 Sep 2023
Southport Beach
The annual Air Show returns this September to Southport Beach, get ready for a weekend packed with entertainment.
If you looking for a fun and exhilarating day out with the kids, as well as the flying programme, there is plenty of things to do on the ground. From flight simulators, static aircraft to explore, climbing walls, assault courses and plenty more!
Tickets are now priced from £10 for general admission, under 16 years of age FREE. If you want to make your family day out even less expensive, feel free to bring a picnic and set up on the beach before you enjoy an afternoon of flying.
You can make a full day of it in Southport as our wristbands mean you can go on and off-site as much as you need. Breakfast in the morning maybe, or a bit of lunch in town?
A full afternoon of flying for an incredibly low price!
Thrilling and daring aerobatics, the breathtaking historical aircraft making graceful tributes to our past or fast and powerful jets and explosions on the beach – this is a weekend not to be missed!
Saturday 9th September
10:30 – Model Aircraft
12:00 – The Red Arrows
12:32 – Polish Heritage Flight – Hurricane
12:43 – The Typhoon
12:54 – T-67 Firefly
13:55 – Great War Display Team
14:16 – Tigers Army Parachute Team
14:48 – Tutor Display Team
15:00 – Battle of Britain Memorial Flight
15:50 – Vampire and Strikemaster formation
15:54 – BAC Strikemaster Pair
16:04 – DH Vampire FB.52
16:15 – Team Raven
16:32 – OV-10 Bronco
16:36 – Chinook Display Team
Sunday 10th September
10:30 – Model Aircraft
13:00 – Tigers Army Parachute Team
13:17 – Great War Display Team
13:38 – T-67 Firefly
13:49 – OV-10 Bronco
14:00 – Battle of Britain Memorial Flight
14:21 – Team Raven
14:38 – Tutor Display Team
14:51 – Chinook Display Team
15:08 – Polish Heritage Flight – Hurricane
15:19 – Rolls-Royce Heritage Flight – Spitfire XIX & P-51 Mustang
15:40 – Vampire and Strikemaster formation
15:44 – BAC Strikemaster Pair
15:56 – DH Vampire FB.52
16:07 – The Typhoon