The Artist Experience – Eurovision Edition
1 month ago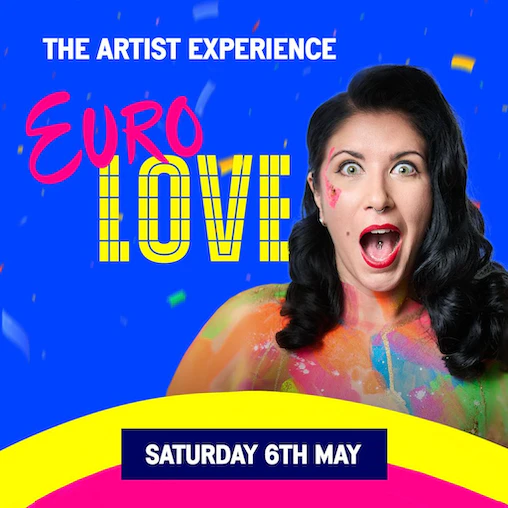 06 May 2023
Love Lane Brewery, Bar and Kitchen
Start Time: 1:00pm | Last Entry: 1:45pm

SHOW STARTS: 2:00pm
ENDS: 5:00 (ish!)
Okay, not gonna lie, even after the success from our last event, we weren't sure if we could host another one in such short notice….
But since we can't help ourselves…
Liverpool was announced as the stand-in host city for The Eurovision Song Contest this year and we couldn't miss the opportunity to do something special…
SO WE'VE ONLY GONE AND BOOKED A NEW VENUE AND ALL THINGS EUROVISION!

Canvella is bringing an immersive art experience / party to the EuroLove program @ The Love Lane Brewery.
A life drawing event with a fun twist!
A unique opportunity to create art and be entertained by Liverpool's most fabulous live cabaret performers.
All art materials provided – easels, brushes, pencils, paints and ponchos. No experience required!
You can take home your masterpiece, play fun games and win some cheeky prizes too!
Food and drink will be available throughout. And as always, it will finish with a good old dance.
Get ready it's The Artist Experience – Eurovision Edition!

Amazing right? Oh wait, we almost forgot…

25% discount off food and a free drink at the bar to all guests when the event is finished!
The Baltic Triangle is the place to be for this years Eurovision celebrations so for an unforgettable party, birthday or just a reason to try something new. Either solo or with your friends; get your creative groove on and grab your tickets today!
We took on your feedback and are making sure everyone gets the best view of our stage and models. So due to the size of the venue this will be a more intimate event with limited seating. Non-painting guest(s) are unable to join the event.
For large groups, reservations and any other info;-
Email Jen at info@canvella.com