The Snow Queen
2 months ago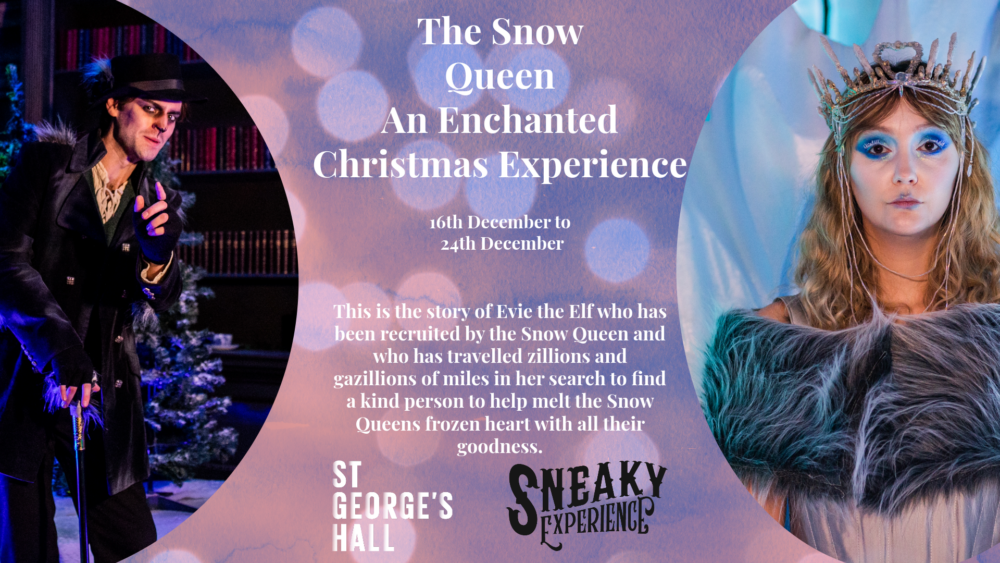 16 Dec 2023 - 24 Dec 2023
St George's Hall
Inspired by the Hans Christian Anderson famous fairy tale, this is the story of the Snow Queen who following an unfortunate accident with a broken mirror (some would say from too admiring herself too much) which promptly turned her once very kind heart, into a cold and frozen one.
Now the saying goes, that the Snow Queen has only one opportunity a year to break the magic spell and turn her frozen heart back into a kind one, and that day is fast approaching.
This is the story of Evie the Elf who has been recruited by the Snow Queen and who has travelled zillions and gazillions of miles in her search to find a kind person to help melt the Snow Queens frozen heart with all their goodness.
ELF RECRUITMENT
To reach the Snow Queen in time to turn her frozen heart into a good one, Evie and her band of merry Elves (that's you) need to overcome numerous obstacles and a few cheeky characters along the way.
Evie the Elf needs to find the most bravest, happiest, and most kindest of children to use their goodness to help turn the Snow Queen back into the kind hearted Queen she once was.
WISHING CLASSES
You know what melts cold hearts don't you? Yes, you guessed it, good and kind wishes.
Not a 'sit still and listen class …. oh no, we need your help this Christmas to melt the Snow Queens cold heart and make her all magical and nice again.
MAKE A WISH
So now you know how to make a wish, let's put it into practice. You never know, you may have a visit from the big man himself if you wish hard enough.
STAR LIGHT. SHINE BRIGHT
This is an integral part of Christmas, as all your wishes need to be guided by the lights, to reach the Snow Queen and to break the frozen spell. Can you help us restore all the lights in the night sky?
And your prize for helping Evie – well, this is the good bit … the Snow Queen has promised to reward anyone who can help, with an up-front and personal meeting with the big man himself … FATHER CHRISTMAS!
FATHER CHRISTMAS
This enchanted experience will culminate with an individual meet and greet with Father Christmas.
Each child (with a paid ticket) will receive a present from Father Christmas and opportunity for photos.
This is a one-off experience for families to visit the Snow Queen Kingdom; an unforgettable adventure and a truly memorable experience.
RELAXED SESSIONS
Friendly elves, colourful lights and loud audiences is the perfect environment for many at Christmas time, however, for some, it can be an overwhelming experience.
This experience is appropriate for children with sensory conditions, are neurodiverse or on the autistic spectrum, as well as other additional needs.
Early morning sessions are to ensure waiting times are minimal, the sound and lighting will be adjusted and the story will be communicated in advance, to support families expectations.
20th December – 09:00
21st December – 09:00