Twopence To Cross The Mersey
11 months ago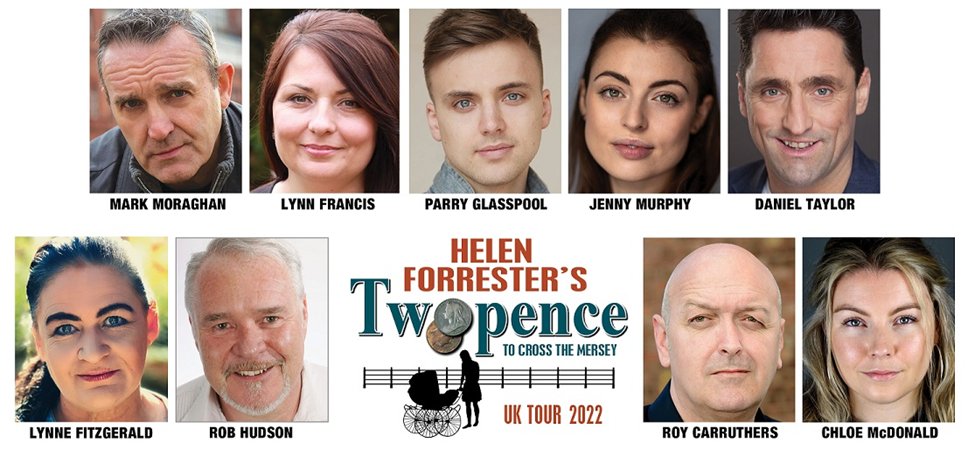 06 Sep 2022 - 11 Sep 2022
Floral Pavilion Theatre
The full cast for the first major UK national tour of Helen Forrester's Twopence To Cross The Mersey has been announced.
Twopence To Cross The Mersey UK Premiere Tour 2022 opens this September in Wirral, a place which features heavily in Helen's million-selling books. 
The hit stage drama has been revamped and updated as it gears up to visit 15 venues nationwide during Autumn 2022. The 9-strong cast, playing over 40 characters, has now been announced and includes five cast members who have appeared in its sister show By The Waters Of Liverpool.   
The new touring production of Twopence To Cross The Mersey is produced by Rob Fennah and Lynn McDermott for Pulse Records Limited in association with Bill Elms and Directed by Gareth Tudor Price.  
The creative team are delighted to reveal the cast Mark Moraghan, Daniel Taylor, Parry Glasspool, Jenny Murphy, Lynn Francis, Lynne Fitzgerald, Robert Hudson, Roy Carruthers, and Chloe McDonald.  
The tour opens on Tuesday 6 September at the New Brighton Floral Pavilion in Wirral and will continue through to mid-November visiting a further 14 venues in Rhyl, Stockport, Crewe, St Helens, Blackpool, Warrington, Darlington, Halifax, Croydon, Coventry, Lichfield, Bolton and Southport, before closing in Liverpool.