Unsolicited, an unsafe space for straight men
3 months ago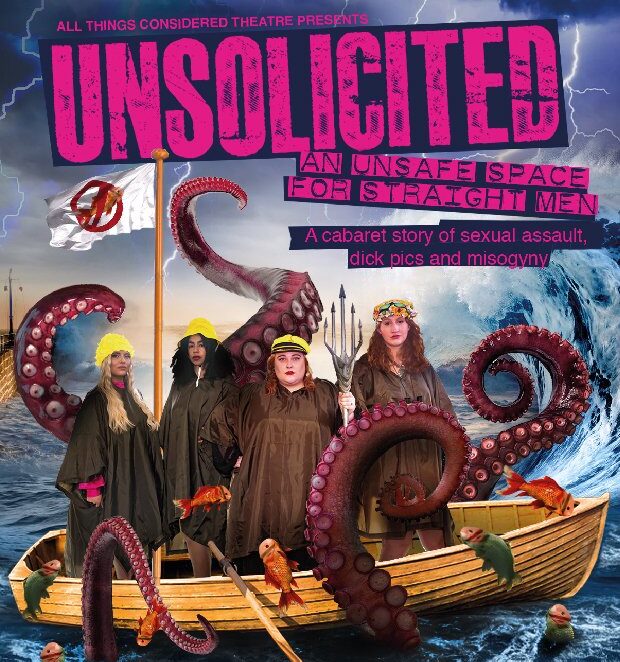 19 Jan 2023 - 20 Jan 2023
Royal Court Theatre
Oi! Men! Yes, You. Straight men. The ship is setting sail and needs you aboard! We can't guarantee a safe journey, the winds are getting stronger, the waves are swelling, and a storm is brewing on the old sea of misogyny.
This journey is for you but it's about us, women. It's about our unsafe spaces, our fears, your unwanted dick pics, approaches, harassment, and your responsibility. Will it be lairy? Yes. Will it be lady-like? Hell no! Girls bring your fellas, you husbands, partners, mates, brothers, sons, dads as we get to grip with this giant and humongous wave.
This performance has been created and devised by a collective of brilliant female artists from the Northwest.
Why All Things Considered Theatre decided to make Unsolicited
It was a radio interview that prompted the team to make the performance. Whilst driving home from work Emma (Director) was listening to the radio, being interviewed was a man called 'George' he was talking about his attitudes towards women and how he doesn't think anything about chatting up girls in school uniform, ending the interview by saying that women are just objects to him. They began discussing their own personal everyday experiences of misogyny and their concerns as parents to girls and boys how misogyny will impact them.
As these conversations were taking place the tragic abduction and murder of Sarah Everard happened making this work feel even more immediate and important. As women and theatre makers they don't know what the answer is, but they think that maybe if men understand what it actually feels like to be a woman that they might begin to change things.