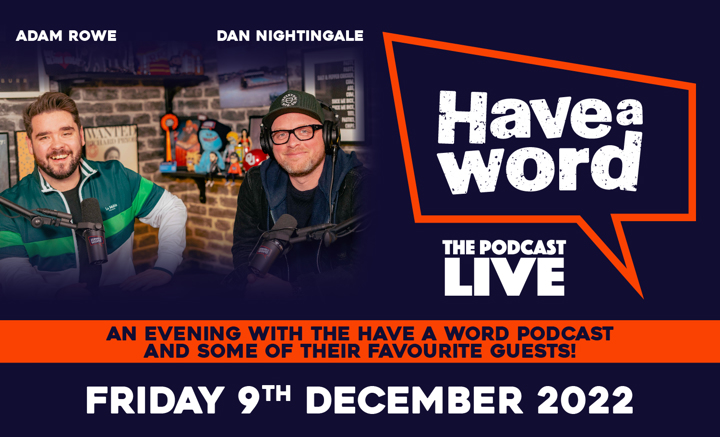 09 Dec 2022
M&S Bank Arena
Comedians Adam Rowe and Dan Nightingale, hosts behind the Smash hit award winning podcast Have A Word, have announced their biggest ever UK show to date at Liverpool's M&S Bank Arena on Friday 9th December 2022.
Adam and Dan started the podcast in early 2020 where they talk about every topic under the sun with hilarious discussions, the occasional special guest and many outrageously funny laugh out loud moments.
The stats speak for themselves, Have A Word has grown to have over 12k subscribers on Patreon, 5 million YouTube views, nearly 3m likes on TikTok with almost 4 million audio downloads of the podcast and 2 million listens on Spotify alone. Not only that Adam and Dan recently won best Podcast at this year's Chortle Awards with scouser Adam winning best club comedian.
On their biggest ever show, Adam said: "I've never been more excited for a show in my entire career. This isn't just going to be a live podcast; this is going to be a visual spectacular. An absolute extravaganza to celebrate almost three years of Have A Word madness!"
Dan adds: "Cannot wait for this. The biggest night of my career, the biggest night in the history of 'Have A Word'. Oh, the mayhem we have planned! It's going to be unbelievable."