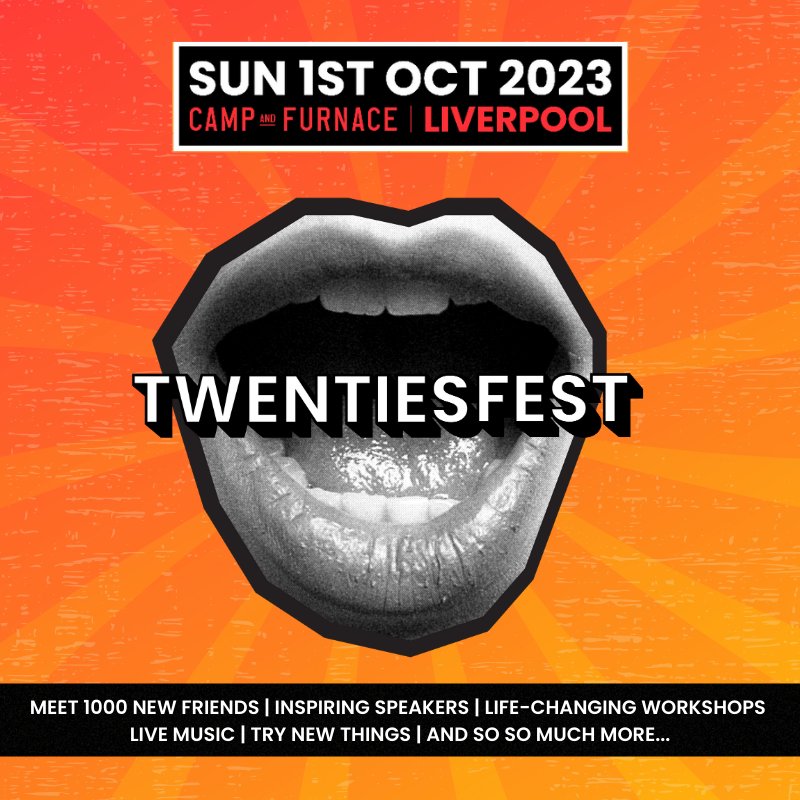 01 Oct 2023
Camp and Furnace
Adult life is hard and no-one talks about it! We know first-hand the pressures we all put on ourselves to have it 'all figured out' but at the same time have fun. We also know the challenges of making new friends when you're a 'grown up', so we decided to launch a festival to help you do just that!
Launching in Liverpool, TwentiesFest is the event that everyone's talking about, helping you navigate adult life!
Our gorgeous friends at Camp and Furnace will help make this one of the most memorable and enjoyable events of 2023! Come along with friends or equally ride solo.
There will of course be talks from amazing speakers about all things living in your twenties and you'll get to see some of your favourite people on stage, including celebrities, experts and inspiring founders! We'll be covering all things careers, personal lives, and relationships.
Be part of something new and exciting that hasn't been done before and grab yourself a ticket!
What to expect:
Loads of amazing talks.
Live music
A chance to meet and network with a bunch of other twenty-somethings in the same boat as you
The coolest brands dedicated to helping you through your twenties
Loads of fun games and activities to enjoy
Goody bag
Event timings:
12:00 Midday: Doors Open
15:00: Last Entry
19:00: Event Ends
About Talk Twenties
Talk Twenties is an award-winning media and events platform that helps young people navigate the rollercoaster years of their adult life. Talk Twenties launched in 2020 during the Covid-19 pandemic. It initially set out to host in-person events but had to pivot to the virtual world, resulting in the creation of the Talk Twenties Podcast. The podcast hits all of the topics of what it's like to explore the world as someone in your twenties opening up honest conversations with guest experts and celebrities. The podcast has received great success since, with over 120,000 listeners and was even a finalist in the British Podcast Awards just one year after its launch in 2021 and 2022.
Talk Twenties recognises that school doesn't exactly set you up for the real world. The mission is to support those entering adult life with things such as getting ahold of your finances, navigating a new career, managing your health and even making new friends. Now, out of the pandemic, the Talk Twenties Team are launching, TwentiesFest in October 2023, an immersive event full of talks, live music and opportunities to make new friends, bringing 1000+ young people together in Liverpool.